Framing
Custom Picture Framing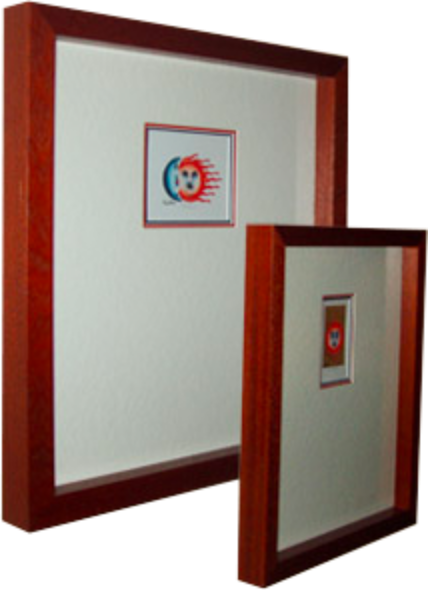 You've Been Framed is a whole new concept in custom picture framing. We personalize your framing experience by giving you individual attention and customized solutions. We offer several picture framing services.
You've Been Framed can provide on-site design services, giving you the benefit of designing your project in its surroundings. With this option, you'll choose colors and materials to complement your art knowing how they interact with your environment.
You may prefer to schedule an appointment for a one-on-one design experience in one of our studios. We offer this "appointment only" option to ensure that you receive the best customer service and attention to your project.
A third option is for clients interested in taking advantage of You've Been Framed's unmatched design and creative abilities. We offer the ultimate service in the picture framing industry; just provide us with your art or project and any special design requests, and we will create a custom portfolio of framing concepts that you can review online. You'll have your own password-protected page on our Web site where you can log in and browse design choices.
Whatever your preference, You've Been Framed will work with you and your busy schedule and show you a whole new meaning to "custom picture framing." Some of the services we offer include:
Traditional Portrait and Document Framing
Creative and One-of-a-Kind Mat Designs
Fancy Frames
Shadow Box and Object Framing
Needle Art Framing
Business & Commercial Framing
Have a crazy framing request? We pride ourselves on our creativity. Don't hesitate to ask us for a solution to your project that a traditional picture framer would never consider.
Architectural Framing
You've Been Framed has come to specialize in Architectural Framing. This concept involves adapting picture frame moldings to non-traditional uses in interiors. When using traditional moldings purchased at a home improvement store, there are only so many styles and designs to choose from. When you work with You've Been Framed, you can choose from thousands of frame moldings and transform a nice interior into a "WOW" interior. Take a look at our portfolio to see how we can take your design one step further with:
Crown Moldings
Chair Rails
Base Boards
Door and Window Casings
Shelving
Valance Boxes
Cabinet and Shelving Trim
Appliance Trim
Fireplace and Interior Accents
Contact us to learn what we can do for you. Call (805) 773-8080 or request an appointment.
Back to Top